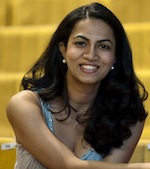 Juliet John holds a Masters in Global Media and Communications from the University of Melbourne and a Bachelor of Psychology from the University of South Australia. Juliet has worked extensively in the Media, Communications and Public Relations sector in both Australia and Malaysia.
To date she has worked as a News Assistant to Channel 10′s Melbourne Newsdesk, as an Assistant Producer to Channel 7 Melbourne's Good Friday Appeal 2011 (that helped raise A$16 million for The Royal Children's Hospital) and has done work experience for the ABC's 774 Melbourne Radio Drive Program.
Juliet has also worked as a Broadcast Journalist for Worldview Broadcasting Channel in Malaysia where she has interviewed the Prime Minister of Malaysia, various Malaysian Ministers and the Foreign Minister of Sudan. Most recently, she worked as a Business News Anchor for Capital TV in Malaysia. Multilingual Juliet speaks English, Bahasa Malaysia, Bahasa Indonesia and Tamil.