Well hello there! It's been years since I've written a blog post and now here I am again with a new website! So cheers to new beginnings! As it is common knowledge to both my family and friends, I absolutely LOVE both Malaysia and Australia. You see, I grew up in Malaysia but then came to Australia to complete my higher education. I first did a Bachelor of Psychology in Adelaide at the University of South Australia in 2005 and then a few years later completed a Masters in Global Media and Communication at the University of Melbourne at the end of 2009. After that, I worked for a few years at various different organisations in the Media & Public Relations line in Melbourne and would fly back to visit my family & friends in Malaysia at the end of each year.
Anyway, THIS YEAR I've decided to try something new. I've decided to create an iPhone/iPod app for Malaysian students that come to Melbourne to study. It's my own little project to help Malaysian students settle into their lives here in Melbourne. I for one, have had an extremely AMAZING time during my Uni years here in Melbourne. I was extremely lucky to have met some of my best friends right here in the City of Melbourne and my life experiences thus far have been nothing short of incredible here. Of course, just like anyone, I've had my down moments here as well but I've managed to pull through simply because of the various different kinds of support I have here. Now as a Malaysian in Melbourne, a steaming hot cup of Teh Tarik Halia and a plate of Nasi Lemak Sambal Ayam were one of the many "supports" mentioned. That's right. MALAYSIAN FOOD! When you're down and out in a new country (with a shitload of assignments and upcoming exams), what do you look for? Friends and COMFORT-HOME FOOD!

So yeah! Make way for the MALAYSIA IN MELBOURNE iPhone/iPod app! I'm currently working with an iPhone app developer Cyril Gaillard of Melvia and along with our team of international designers, we are just a few steps away from launching the very FIRST Malaysia in Melbourne iPhone app.
The purpose of the Malaysia in Melbourne iPhone app is to give Malaysian students "a feeling and a sense of Malaysia" right here in Melbourne! This app will highlight several affordable Malaysian restaurants, places/butchers where halal meat can be purchased, places where Malaysian/Asian groceries can be purchased, several helpful organisations such as MASCA Victoria (Malaysian Students' Council of Australia, Victoria) and so forth. One of the unique features of this app is that it will have me presenting/reporting in it and actually explaining to the Malaysian students about life here in Melbourne.
If you're reading this and would like me to feature your venue/organisation in the Malaysia in Melbourne iPhone app, please do not hesitate to contact me!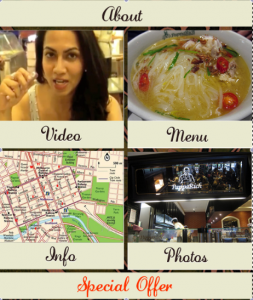 Screenshot of the Malaysia in Melbourne iPhone app!